Hawaii 1997
or "What I did on my Summer Vacation"
Page 3
---
Bing Fai Lau
Prof. James Muro said it best when he spoke of how current masters are great only because they stand on the shoulders of masters of the past. One of the most pleasant surprises of the entire weekend was the appearance of Bing Fai Lau. Sensei Lau, who is 91 years young, had been an instructor at the Kodenkan and the Kaheka Lane dojos along with Sig Kufferath.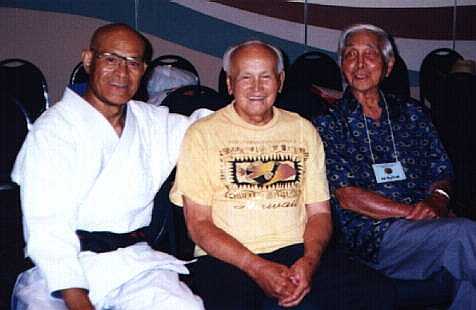 This photograph repesents a 50 year reunion. Sensei Kimo Hatchie (left) was a member of the children's class taught by Sig Kufferath and Bing Fai Lau. This class was also taught by Esther Azumi and included a young John Chow-Hoon.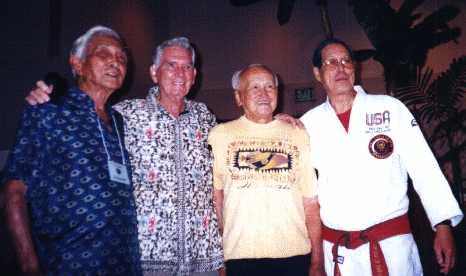 .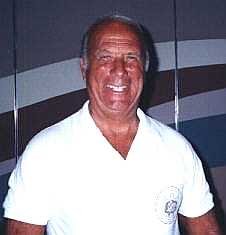 Here are some "old-timers" from the Kodenkan. Instructors Bing Fai Lau, Jack Wheat, Sig Kufferath and Wally Jay are shown in the photo on the left. To the right, former student at the Kalihi Gym under Juan Gomez is Robert Lopez.
---
Jesse Glover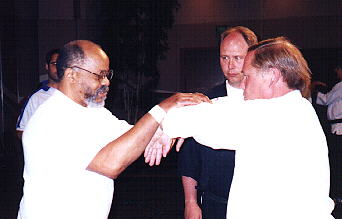 While Bruce Lee was attending Edison Technical School in Seattle, a young man who had seen Bruce's Kung-fu demonstration, asked Bruce if he would teach him. After a long pause, Bruce agreed that he would take Jesse Glover as his first student. Jesse helped instruct in the seminar taught by another Bruce Lee student, James DeMille.
---
James Roberts, Jr.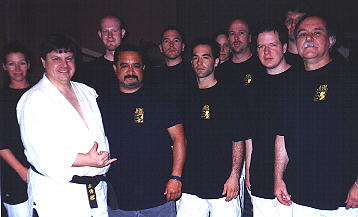 Although he currently lives in Maryland, Master James Roberts, Jr. was born in Hawaii. Several years ago, he inherited Kim Studio upon the passing of Grandmaster Ki Whang Kim. Here he is shown with a group of his students (and yours truly, trying to act Hawaiian.)
Master Roberts family has some interesting connections to the Okazaki Jujutsu tradition. His father, James Roberts, Sr., a noted Washington, DC area Karate instructor, once told me that he studied Judo in Hawaii as a youth with a man they called the "Professor". In addition, Jim, Jr. had traced his family tree and discovered the name Hoon-Chow as a distant relative. He was able to meet Pauline Chow-Hoon at the seminar.
---
Sport Jujitsu
Recently, a sport version of Jujitsu has become very popular. The sport has been most vigorously promoted by Sensei Ernie Boggs of Nitro, WV.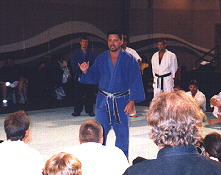 Here Sensei Boggs teaches a class in Sport Jujitsu to a group of enthusiastic students.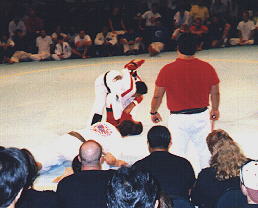 On Sunday, a professional Sport Jujitsu tournament was held between Sensei Boggs' Team USA and the team from Hawaii. He we see the conclusion of the final match. Craig Oxley from Team USA defeats the Hawaiian Tommy C.W. Lam with a triangle choke.
---
---
This page maintained by George Arrington.
Back to Home Page.