Professor Jack Wheat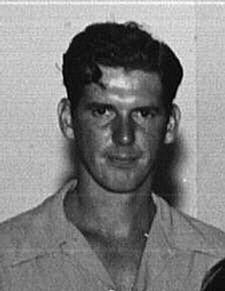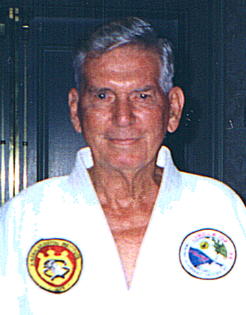 Jack Wheat in 1947 and at the 1996 Ohana convention in Santa Clara, CA.
---
Professor Jack Wheat was born in Seattle Washington on 2/23/19. Both his mother and his father made their living in sales. He had one younger brother, Benjamin Patrick Wheat.
Jack attended public school in Seattle and graduated from West Seattle High School. During the summers, he made extra money working in the local orchards picking fruit. In 1937 he joined the Coast Guard and was stationed in Alaska for two years.
Jack worked one year in New York as a welder at the Brooklyn Naval Yard. He was working on the U.S.S. Missouri when the Japanese attacked Pearl Harbor. Jack was transferred to Hawaii in 1942, shortly after the attack on Pearl Harbor, and began to work at the shipyard. Six months after he arrived, he started training in Jujitsu under Professor Okazaki. "I was awarded a black belt and the coveted jujitsu scroll by Master Okazaki in 1945", he said. Jack recalled training at Professor Okazaki's home. "He taught the black belts the higher arts of Se Kappo and Shinyo No Maki."
He was told by Professor Okazaki, "you have healing hands". Professor Okazaki invited Jack to train in massage in the Restoration Clinic. According to Professor Wheat, "Professor Okazaki did not have a formal massage school with lectures and regular classes. He taught students in the clinic on an individual basis. Professor usually had a couple of students working with him at all times. After a student learned the basic massage, he would be allowed to treat patients in the clinic. The student would give a half hour general circulation massage before Professor Okazaki came in and finished the treatment. Professor Okazaki would treat specific problem areas (such as sciatica) for about 15 minutes." Professor Wheat recalls that Professor Okazaki used a heat lamp and a "sponge" that was placed in hot water and wrapped in a towel. "Professor Okazaki used special liniments. I think he used a black liniment and a red liniment that was hotter. He also had a yellow medicine. The yellow medicine could have been mustard, but I am not sure." Jack indicated that Professor Okazaki wanted the massage students to follow the massage routine but he also allowed the massage students to "use the own discretion when treating a patient". In 1945, after three years of training, Jack graduated from Okazaki's Nikko Restoration Sanatorium in Seifukujitsu. He continued with the massage training until 1950.
In 1950, Jack Wheat became a member of the Hawaii Shobokan Judo Club. In 1953 he received his shodan from this club. He was eventually awarded a nidan and sandan in this organization.
Jack Wheat joined with Joseph Holck in 1955 to teach at the Keamoku St. dojo in Honolulu. He founded the Menehune Jujitsu Club and became the head instructor at Okazaki's Kodenkan Dojo until it closed in 1958. "I trained and instructed in the dojo (Kodenkan) for 16 years until it closed in 1958."
In 1959, Jack was assigned to duty overseas. When he returned to Hawaii, he reopened the Menehune dojo in Waipahu and taught classes there until 1972 when he was assigned to duty in Vietnam. While in Bankok,Thailand (1974 to 1975) Jack trained in acupuncture. He was awarded a certificate and was licensed to practice acupuncture in Thailand and Hawaii. In 1975, he was appointed by the Governor, of the State of Hawaii, to serve on the Board of Acupuncture.
Jack is a charter member of the American Jujutsu Institute. He was elected the first secretary and later served two terms as president. He continues to remain active in this organization and has served on the Standards Committee and the Board of Directors. Professor Wheat is a Judan and has been inducted into the Jujitsu Hall of Fame by the American Jujitsu Institute, Danzan Ryu Jujitsu, Jujitsu America and the Hawaii Kempo Jujitsu Society.
He and his wife, Bessie live in Waipahu, Hawaii.
This biographical information on Professor Jack Wheat was written by Daniel E. Andrews III, M.D., Founder of Pinewood Karate and the Napa Valley School of Massage. It is used here with the permission of Dr. Andrews.
---
Other Photos: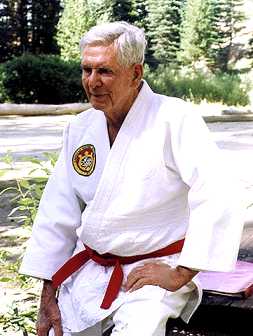 Prof. Wheat in 1996.
---
This page maintained by George Arrington.
Back to Home Page.