Prof. John Cahill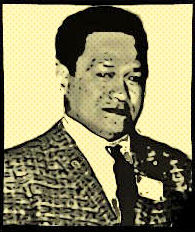 Prof. John Cahill in 1958

Prof. John Cahill started Jujitsu at the age when most people would retire from Judo competition. He began his study with Prof. Okazaki in 1937 and went on to be one of the most influential and prolific teachers of Danzan-Ryu.

John Cahill was born in 1912 in Honolulu, Hawaii. As a youth he excelled in a variety of sports, including volleyball, baseball, swimming, rowing, Sumo and bowling. As an adult, John worked as a machinist at the Pearl Harbor shipyards. In 1931, he married Abigail and they had four children.

In 1934, John began attending the Jujitsu school of Prof. Henry Okazaki on Hotel St. in Honolulu. In 1938, he received his black belt (Shodan) and a year later received his Nidan and the Mokuroku (catalog) scroll indicating that he was an instructor. On July 20, 1941, John received his diploma certifying him in the Okazaki restoration therapy, Seifukujutsu. In 1941 he was received a Judo Shodan diploma from the Budokukai in Japan. After he received his Mokuroku, set up his own class at the Kodenkan which he called the Hui Miki Miki (Hawaiian for "lots of pep"). He taught there throughout the war years and also trained many students including U.S. servicemen at Honolulu's Central YMCA. His Jujitsu students in the islands included William Ah Moo, William Montero and Charlie Kalani (who used the stage name Professor Toru Tanaka as an actor and professional wrestler.)

In 1947, John moved his family from Hawaii to norther California and opened a dojo. During this time, he joined with three other former Okazaki students Richard Rickerts, Bud Estes and Ray Law to form the American Judo and Jujitsu Federation. Since John was keenly interested in competition Judo, he also associated his club with the Hokka (Northern California) Judo Yudanshakai (Black Belt Federation).

John Cahill died of kidney failure in 1962 at the young age of 50. His wife, Abigail passed away in 1972.
---
Additional Images of John Cahill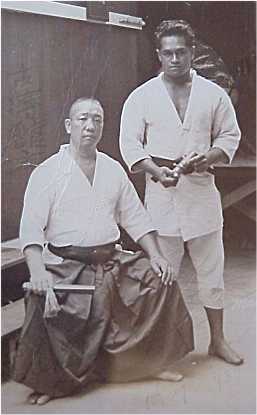 John Cahill receives his Nidan and Mokuroku at the Kodenkan on May 5, 1939.

John Cahill (seated third from the right) in the restoration class graduation picture.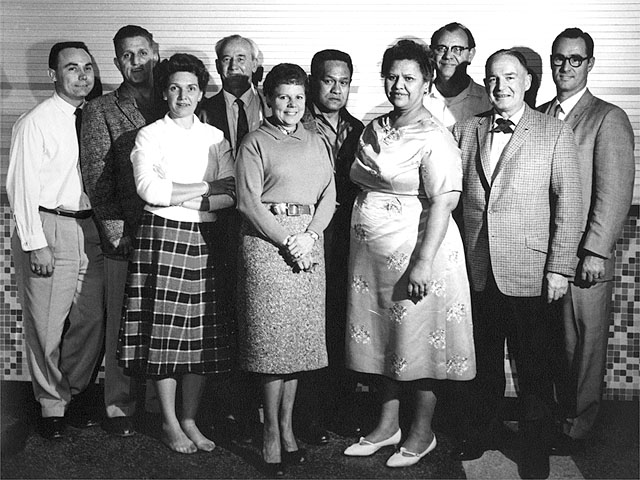 AJJF leaders in 1958. (L-R) James Musselman, Bud Estes, Lucille Estes, Richard Rickerts, Marie Law, John Cahill, Abigail Cahill, Norm Carl Nelson, Ray Law, Lamar Fisher.
---
This page maintained by George Arrington.
Back to Home Page.