William L. Montero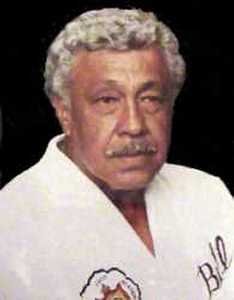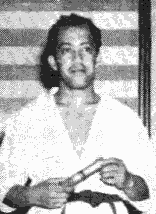 Prof. Bill Montero in the 1980's (left) and receiving his mokuroku in 1944 (right).
---
This is an autobiography written about and by William L. Montero. I was given this at his memorial service in 1992 by his grand daughter. A lot of it is personal and won't mean much to those who didn't know him, but there are several parts that provide some historical perspective to the art and times.
I am writing it exactly as he wrote it. (Jim Werner)
---
Bill Montero
Profile of a Legend in Time
I became interested in judo in the early 1930's and studied at the Shoto Mission in Waipahu and also at the Budokai Temple in Palama while still a cadet at Kamehameha Schools (a military academy).
During those years, it was difficult to be accepted into the realm of Judo because of being of a different race. The competition was not divided in weight divisions-just juniors and seniors. The thought of instructors at that time was-"A Good Little Man was Equal to a Good Big Man".
My desire to succeed as a competitor became an obsession and as I progressed, I developed an attitude of "Asking No Quarter and Giving No Quarter". I also learned to hide my injuries and gained a reputation for being aggressive- a hallmark that remained for many. Many of these injuries were to surface in later years. "In Skill Opposed, In Spirit United", was learned the hard way.
In 1935, I approached Prof. Okazaki to inquire about Jujitsu - as I had heard that he had opened the doors of learning to all races (a fact for which he was ostracized by his own people). I was told to observe classes that were being held at the Army & Navy YMCA for black belts under Rick Rickerts. I was amazed at the many races present- Haoles, Hawaiians, Chinese, Japanese, Portuguese, Spanish and many others. Among those present was one John Kalei Cahill who impressed me so much that I joined his class as one of his first students. The class was made up of many civilian workers from the Naval Shipyard at Pearl Harbor. Our club was known as Hui Mikimiki, a most respected group.
About that time, I formed Blue Harmony, a dance orchestra that became Hawaii's favorite dance band for many years.
My friendship with John Cahill included our families and a bond of "Ohana" that became very apparent with the passing years.
In the early 1940's John enrolled his three sons in Hui Mikimiki. They were John Jr., Clayton and his youngest son Wilfred, who had been stricken with polio in his early childhood. With the help of the Shriners Hospital and the faithful restorative massages by Prof. Okazaki and his dad, he regained full use of his faculties and was completely cured. Today, you all know him as Willy Cahill, who has become an outstanding instructor and coach in his own right.
In 1946, John Cahill left Honolulu for the mainland with his entire family for health reasons.
In 1948, I came to San Francisco to confer with John on the idea of starting a class in self defense. With his approval, I returned to Honolulu, gathered my family and came back to the mainland on Dec. 7 1948 and lived with the Cahills in South San Francisco.
Because of John's continuing illness, he suggested that I start a class of my own with his blessings. So I moved to San Jose in 1949 and in May of the same year, founded the Pacific Judo Academy, a successful school that was to endure for more than 30 years. I also applied for and was accepted in the California Physical Therapist Assn. as the first Hawaiian qualified to practice Physio Therapy. About that time, I was asked to join the ranks of four professors namely Ray Law, Bud Estes, Rick Rickerts, and John Cahill which became the heartbeat of the organization that is known today as The American Judo and Jujitsu Federation.
In 1952, I built the "Hula Girl", a modified street roadster with the aid of my son. Said roadster was selected as one of the ten most beautiful rods in America by the National Hot Rod Assn.
In 1958, I was commissioned by the Santa Clara County to work in their rehabilitation program helping children with walking difficulties. With Nikko Restorative Massage and medical gymnastics, I was able to help many youngsters- some of which became full time students in Pacific Judo.
Pacific Judo continued to teach competitive judo on the national level and with the help of my son Don, who was himself a well known competitor, instructor and coach, was able to field many excellent judo players. He still retains a close friendship with Willy Cahill that started many, many years ago.
I continued to teach physiology and anatomy to students who were interested in supplementing their knowledge of Danzan Ryu with a working understanding of Nikko Restoration Massage. Some of these students are successful practicing Licensed Massage Therapists today.
Following the passing of my best friend John Kalei Cahill, I conducted classes in the advanced arts for his black belts (a promise I had made him) and was joined by black belts from Pacific Judo. These sessions were intense workouts followed by fun time- home brew and pupu. This was something that John and I had always enjoyed together in life.
In the early 60's, I revived the science of Bokendo as part of Pacific's program. This science was taught to a few of us by Prof. Okazaki in the early 30's. Among the fortunate few to learn this highly sophisticated technique were John Cahill, Sonny Chang, Markham Spencer and myself.
With the wave of public unrest in the 60's, I was asked by then Chief of Police John Morgan of the Campbell Police Depart. to instruct his team of special agents in the proper use of the baton. This group was later strengthened by the addition of officers from Los Gatos P.D., Santa Clara P.D., San Jose P.D. and Gilroy P.D. The college uprisings of the late 60's and 70's offered an opportunity for these men to operate as disciplined units with a great measure of success in riot control. Some of the instructors still involved with Bokendo are Vincent Holck of Tuscon P.D., Greg Braze of Gilroy P.D. and Brian Fitzgerald, one of my finest instructors in San Jose. I will always be proud of all of them.
Pacific Judo Academy closed its doors forever in 1981 following my retirement from Lockheed Missiles and Space Div. in Sunnyvale.
I moved to Colorado Springs in Aug. 1981 to be close to my son and his family.
I have continued to hold seminars for my instructors who are still active in Danzan Ryu and also massage therapists practicing Nikko Restorative Massage, a science that I consider deserves a place among the world's finest in the aid to humanity.
As a special request, I would like to have the name of John Kalei Cahill be honored posthumously and he also be enshrined in the Hall of Fame.
So ends the Chronicle of Professor William L. Montero.
A Legend In His Own Time.

---
Here is some additional information regarding Professor Montero submitted by Kevin Edwards:
Some people promoted to Renshi in Bokendo from Professor Montero include: Jim Giambroni and Kevin Edwards.
Some people who received a Nikko Restorative Massage Certificate from Professor Montero include: Kevin Edwards, Jim Giambroni, Greg Baze and Sandy Cleveland.
---
This page is maintained by George Arrington - DanzanRyu@yahoo.com
Back to Home Page