Sensei Lee Dudley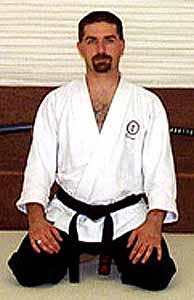 Sensei Lee Dudley in his Tekio Seishin Kai dojo.
---

Lee Dudley is the Sensei and School Head of Tekio Seishin Kai. Lee holds a second degree black belt, certified by the American Judo & Jujitsu Federation.

Lee began training in the martial arts at the age of 17 in Taekwon Do under Tom Callos. After graduating high school, Lee went to Willamette University in Salem, Oregon. At the end of his sophomore year, while on summer break, Lee's aunt invited him to attend jujitsu classes at the Bushidokan. Night after night she would return home and talk about the things they had learned in class. One evening, she came home and talked about learning healing techniques, called Seifukujitsu, and that there was a moral obligation to repair what you had the ability to damage. That intrigued Lee and he went to his first class the next night. After the first technique, Lee was hooked. The leverage, and simplicity of the first hand techniques opened up new doors that he wanted to explore. Lee took a job at a local hotel and worked odd hour shifts to study as frequently as possible while continuing his education at the University of Nevada.

Within two and a half years of intense study Dudley Sensei tested for and passed his Shodan examination with the AJJF. Most kyu rank preparation takes between four and five years before a student is ready to test. The large number of black belts instructing and Lee's frequent work outs (in and out of class) cut this time nearly in half.

Lee's Sensei at the time of his promotion to Shodan was Professor Herb LaGue, Rokudan. Under Professor LaGue, Lee was taken through a variety of courses of study both within and without the system; courses that gave vision to the potential of the system, and tested his spiritual and physical strength. The Bushidokan was a unique dojo, in that, it had over twenty active dan ranking students on the mat assisting with instruction and working out with kyu ranks. Along with Professor LaGue, Francis Ferris, Cyndi Ferris, David Lewis, Burkhardt Bohm, Jeff Dearing, Mike Werth, Brett Dear, Jim Oba, Suki LaGue, and Professor James Musselman, Shichidan were all instrumental in instructing and working out with Lee during his dan rank preparation and during his first two years as a new Shodan.

In 1995 Lee moved to Boise, Idaho, his home state (being born in Twin Falls). After four months of settling in to his new home, Dudley Sensei found an Aikido dojo that was willing to let him teach classes three times per week. So he flew up Brian Taylor, a former student of Professor LaGue's and close friend of Lee's, and put on a weekend of demonstrations to get the first students in the door. The following Tuesday, four students started class and Tekio Seishin Kai was born. Within a month, Professor Patrick Browne, Shichidan was giving advice on how to run the school effectively and a month after that sponsored the school for Federation Membership in the AJJF. Professor Browne's impact on Lee's training cannot be underestimated, and he is missed by many, Dudley Sensei among them.

Dudley Sensei has been very influenced by the Japanese Budo tradition of balancing martial ability with training the mind and spirit. That balance for Lee was found with his introduction to the Sterling Men's Weekend event, one of the most significant experiences Lee has gone through. It assisted in his development so significantly and put his jujitsu skills so far ahead of where they were, that it is now an encouraged activity within the jujitsu curriculum. The Sterling Men's Division's stated purpose is perfectly in line with that of Danzan Ryu and the effects for a student of jujitsu are remarkable.

After three years of instructing Danzan Ryu in Boise, Dudley Sensei purchased the dojo he began Tekio Seishin Kai in and expanded the jujitsu program schedule and curriculum. In May of 1998, shortly after receiving his Nidan, he became the student of Dennis Estes, Godan. A man whom Lee respected greatly for both his strong character & ethics and for his tremdendous skill as a martial artist.

Today, Tekio Seishin Kai which means "School of the Adaptable Mind" has nearly 30 loyal students. The spirit of Kokua that Okazaki promoted is ever present as we involve the dojo in community service projects, jujitsu trips to convention and other activities, and day to day working out in the dojo. Plans are in the works to expand the existing facility to have a larger mat area, massage and therapy facilities, visiting Professor's quarters, and larger living space for Sensei.

Used with permission. Copyright © Tekio Seishin Kai 1998. All rights reserved.

---

This page maintained by George Arrington.

Back to Home Page.