Frank Ferris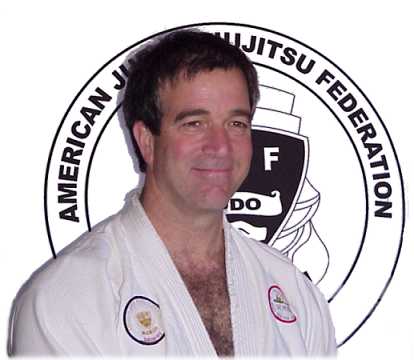 Frank Ferris at the 52nd annual AJJF convention in Boise, ID.
---
Sensei Frank (Franko) Ferris holds the rank of Godan with the American Judo and Jujitsu Federation. He is the chief instructor at High Sierra Jujitsu school.
Frank began his studies in DanZan Ryu Jujitsu at the Bushidokan Dojo in Sparks, Nevada under his Sensei, Professor Herb LaGue. It was the Bushidokan that set the platform and fed the fire for Frank to pursue a motivated career in the martial arts. Frank owes a debt of gratitude to Professor and Sukie LaGue for the opportunity they provided him. Frank made many life long friends through the Bushidokan, taught classes continually and ran multiple projects for the dojo during his 15 year attendance there.

Frank achieved his AJJF Shodan in 1991, AJJF Nidan in 1993, AJJF Sandan in 1996 and AJJF Yodan in 2000. He received his current holds rank of AJJF Godan in 2004. Although an avid practitioner of DanZan Ryu Jujitsu, Frank cross-trains whenever possible in both the external and internal arts.

Frank graduated from the DanZan Ryu Seifukujitsu Institute in March of 1997 under Cynthia Frueh Sensei and the Makoto Kai to become a Certified Massage Technician. Frank is currently a Licensed Massage Therapist in the Reno/Tahoe area and trains continually in the healing arts.

From 1993-1996, Frank sat on the Board of Managers (BOM) of the American Judo and Jujitsu Federation as the Manager of Communications/Editor of the Kiai Echo, the AJJF newsletter. It was during this time that Frank received recognition and notoriety as the Wandering Uke when he visited many dojos and participated in numerous martial art events. Frank continues to serve the BOM when called upon...and continues to wander...

Frank opened High Sierra Jujitsu (HSJ) in August of 1998. Frank's vision is very positive for High Sierra Jujitsu. With the advent of some simple marketing techniques, a creative curriculum and a dynamic approach Frank, with friend and partner Gary Smith, and wife Cyndi projects serious growth for the school. High Sierra Jujitsu is destined to become a strong voice in the further fulfillment of the Okazaki dream to propagate Dan Zan Ryu.
There is an open door policy at HSJ for all serious DZR practitioners. The concepts of Kokua and Ohana are taught and emphasized from day one. The students at HSJ are taught the Okazaki boards as measuring sticks, where the individual arts are perfected in the static form. Paralleling this approach is a freestyle agenda where flow, movement and adaptation are encouraged.
---
This page maintained by George Arrington
Back to Home
Copyright © 2009, George E. Arrington III. All rights reserved.