Sensei Thomas Westfall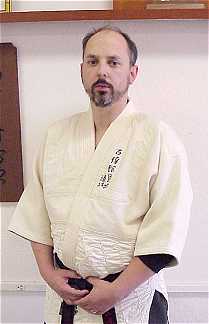 Sensei Thomas Westfall at the Kodenkan dojo in Santa Clara, CA, 5/14/1999.
---
Sensei Tom Westfall has been involved in the martial arts for over 29 years. He first began studying Judo at age 7. In 1981, he joined the United States Marine Corps were his primary job was in the Landing Support Battalion but also served as a hand-to-hand combat instructor. In 1984 he moved to San Jose, California.

While at a martial arts demonstration, Sensei Westfall saw someone who he describes as the "first true martial arts master" he had ever seen. This master was Prof. Sig Kufferath of Santa Clara, CA. After the demonstration, Sensei Westfall asked Prof. Kufferath about becoming a student. The Professor directed him to the Kodenkan Jujitsu School of Santa Clara, which was Prof. Kufferath's main dojo, run by his senior instructor Tony Janovich.

Sensei Westfall became a Danzan-Ryu Jujitsu student under the professors attending any and every workout he possibly could. Sensei Westfall spent many hours at the Kodenkan, not only learning the techniques of Danzan-Ryu, but also many of the "little things" that make this style so effective. Sensei Westfall is certified by the Profs. in Seifukujutsu and is currently ranked Yodan, 4th degree black belt. Additionally, he holds instructor level ranking in Gung-fu, Tae Kwon Do, Kenpo Jujitsu, as well as having studied Judo and Aikido.

Sensei Westfall often would work out 7 days a week between attending classes at the Kodenkan, assisting in instructing classes at the Santa Clara Community Center, and also assisting Prof. Kufferath in classes at other dojo's where he taught.

In mid-1988 Prof. Kufferath began teaching at the Pacific Coast Association of Kenpo Jujitsu in Campbell, opened that year by former Kodenkan brown belt (sankyu) Russ Rhodes, also a Kajukenbo 2nd degree black belt. Prof. Kufferath asked Sensei Westfall to come and help him teach Danzan-Ryu at Pacific Coast because he needed someone who could bring Russ and his students up through the black belt arts.

In mid 1990 Sensei Westfall uke'd for Russ Rhodes Danzan-Ryu black belt test. Sensei Westfall recalls "Russ did pretty well on the test, although I was a little bit confused on the material that Prof. Kufferath tested him on. At the Kodenkan, our Shodan test covers the entire list of Shinnin, but Prof. Kufferath only tested Russ up through the first 10." When Sensei Westfall asked Prof. Kufferath about this later, the Prof. replied "you make sure you test by Kodenkan standards, not what I do elsewhere."

For many years, Sensei Westfall was one of Prof. Kufferath's main demonstration partners, a privilege reserved for few. Sensei Westfall spent many countless hours going over the Okugi (inner mysteries) of Danzan-Ryu with Profs. Kufferath and Janovich. By Prof. Kufferath's own account, Sensei Westfall is one of two students that he ever gave copies of his personal notes too.

In 1993, Sensei Westfall attended and graduated from the formal Okugi class held by Profs. Kufferath and Janovich, receiving his Kaidensho (full transmission and mastery certificate) and the title of Renshi (trainer).

Sensei Westfall currently resides in his hometown of Olympia, WA. He teaches Danzan-Ryu Jujitsu at his Nikko Dojo. (Note: This name is significant in that it was give to Sensei Westfall directly by Prof. Kufferath.) Sensei Westfall can be reached via e-mail at NikkoDojo@yahoo.com.
---
Other Pictures of Sensei Tom Westfall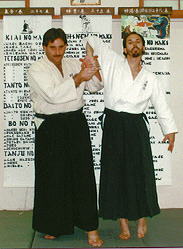 Prof. Tony Janovich applies a wrist lock to Sensei Thomas Westfall.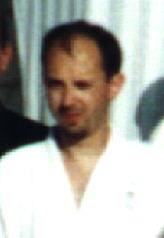 Sensei Thomas Westfall at the 1993 Okugi class.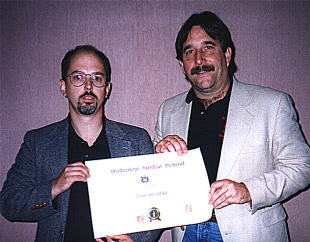 Sensei Thomas Westfall receiving his Yodan promotion at the 1997 Jujitsu America convention.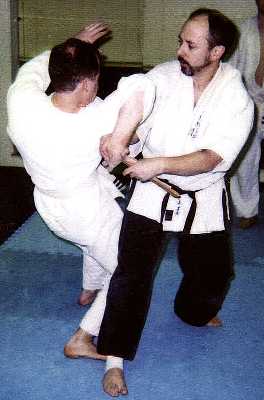 Sensei Thomas Westfall demonstrating a knife defense in 1998 at the Virginia Kodenkan.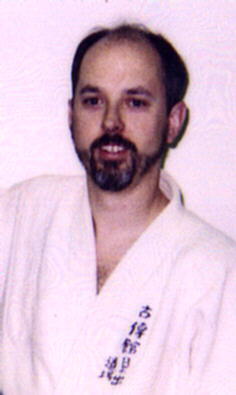 Sensei Thomas Westfall in 1998 at the Virginia Kodenkan.
---
This page maintained by George Arrington.
Back to Home Page.
Copyright © 1998, George E. Arrington III