Steve Balzac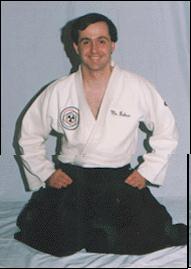 ---
Sensei
Steve Balzac '85
started his study of the martial arts at the age of fourteen with Aikido and European fencing. Steve fenced on the varsity squad while attending MIT, and on the national circuit for several years after graduation.

He started DanZan Ryu JuJitsu after moving to the San Francisco Bay Area in 1989. Steve received his shodan (first degree black belt) in 1996, his nidan in 1999, his sandan in 2001, and his yodan in 2004. Steve was cofounder and sensei of Kings Mountain Jujitsu in Woodside, California, and taught jujitsu at Kehillah High School in San Jose. Steve has studied Choy Li Fut Kung Fu and Ten Chi Do, as well as continuing to study Jujitsu with Professor Larry Nolte at the
Medford Judo Academy
.

Steve is also a graduate of the 2003 Okugi course taught by Professor Tony Janovich, where he received a Kaidensho and was awarded the title Renshi. In addition to his martial arts training, Steve has practiced Seifukujitsu (therapeutic massage) since 1990. He holds certifications from the KoDenKan Institute and the DanZan Ryu Seifukujitsu Institute.
Steve can be reached via e-mail at: sbalzac@alum.mit.edu
---
This page maintained by George Arrington.

Back to Home Page.