Professor Rory Rebmann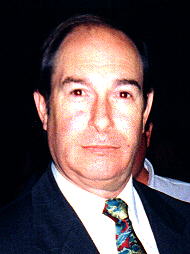 Professor Rebmann at the 1996 Ohana celebration.
---
Professor Rory Rebmann began his Jujitsu training in 1959 under Prof. Ray Law in Oakland, CA. He has competed in both Jujitsu and Judo competitions. In addition to his Jujitsu training, Prof. Rebmann has trained in Shotokan Karate, Kodokan judo and Bushido Jujitsu.
Professor Rebmann is currently the Sensei of the Amador Judo & Jujitsu Studio, along with his wife Patricia. The dojo is located at 2369 First St., Livermore, CA 94550, with phone number: (510) 455-6054. Although Amador Judo & Jujitsu Studio has a well-rounded program for all ages, it is especially well-known for its excellent children's program.
When asked about who has been most influential in his life, Professor Rebmann replied, "My wife Patricia because of her steady encouragement, her reminding me to laugh at myself, and her lifetime friendship. This has helped to make me who I am today."
Professor Rebmann was the director of the successful 1998 Ohana convention in San Ramon, CA. He can be reached via E-mail at: ProfReb@aol.com
---
Other Images: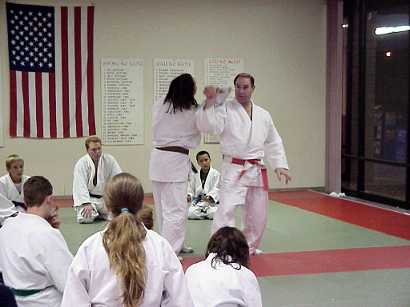 Prof. Rebmann demonstrates a Kotemaki hold.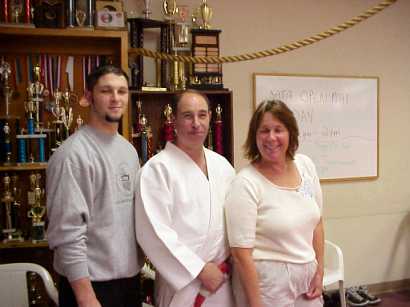 A family portrait (minus one). Son Ryan, dad Rory and mom Patricia. Daughter Ashley was out of the dojo at the time.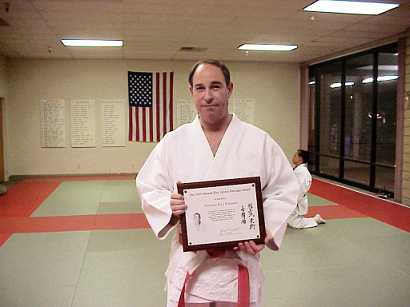 Prof. Rebmann was awarded the 2000 Danzan-Ryu Jujutsu Heritage Award. This was based upon nominations received via the Internet from many people. Congratulations, Rory!
---
This page maintained by George Arrington.
Back to Home Page.