Sensei Randy Mullins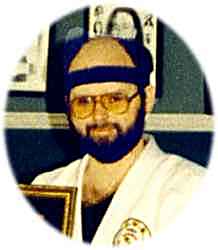 ---
Sensei Randy Mullins is a Nidan in Kodenkan Danzan Ryu Jujutsu under Prof. Lono Ancho. He holds the first life membership in the Kodenkan Danzan-Ryu Jujitsu Association. He received his Shodan in 1986 and his Nidan in 1988. He currently practices Kodenan Danzan Ryu Jujitsu along with students whose background is in Aikido.
Randy is a licensed professional counselor in North Carolina working in an Employee Assistance Professional capacity where he is responsible for the mental health needs of about 6000 members and their families. He also teaches college part time at the local community college and lectures on stress, anxiety and depression.
---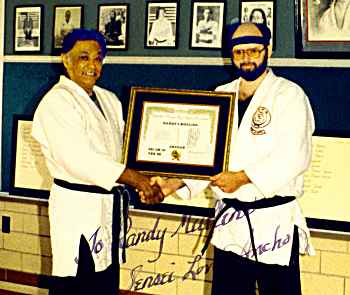 Sensei Randy Mullins receives his Shodan diploma from Sensei Lono Ancho in February, 1986.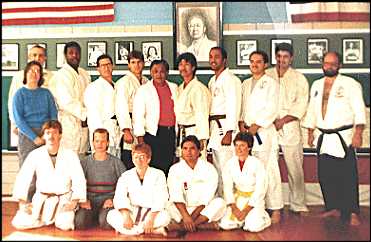 Prof. Ancho (center with red shirt) on the last day of teaching at his dojo at the Wright-Patterson Air Force Base, Oct. 4, 1987. Sensei Randy Mullins is on the far right.
Prof. Sig Kufferath demonstrating Katate Hazushi "A" on Sensei Randy Mullins at a seminar in Pennsylvania. Photo courtesy of Prof. Tony Janovich.
Prof. Tony Janovich reads the Japanese Mokuroku (catalog) scroll of Professor Sig Kufferath with the assistance of Senseis Dan Furman and Randy Mullins. Photo courtesy of Prof. Tony Janovich.
---
Photographs courtesy of Sensei Randy Mullins except where noted.
This page maintained by George Arrington
Back to Home
Copyright © 1999, George E. Arrington III