Richard W. Heirakuji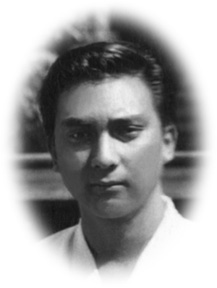 Richard Heirakugi at the 1948 Special Black Belt Class in Honolulu.
---
The following was submitted by Russell Heirakugi, the son of Richard Heirakugi:
My father is Richard Heirakuji, listed on your site as a student of Prof. Okazaki. Dad passed away in Oct 24, 1998. This obituary appeared in the Friday, October 30, 1998 edition of the Star Bulletin.
Richard M.W. Heirakuji, 70, of Kailua, a retired cargo supervisor, died Saturday in Kailua. Born in Kohala, Hawaii, he is survived by wife Kathleen R.; children Richard, Russell, Martin and Carolyn; brothers and sisters Roy, Wilfred, Wally, Charlie and Clyde Heirakuji, Geraldine Meade, Jean Yim, Rodney, Robert, Kanoe, Roland, Lionel and Elmer Cazimero and Brenda Heirakuji Romero; and seven grandchildren. Services: 11 a.m. tomorrow at St. John's Vianney Catholic Church. Call after 9 a.m. Inurnment: 9 a.m. Monday at Hawaii State Veterans Cemetery.
---
Other photos:
---
This page maintained by George Arrington
Back to Home
Copyright © 2000, 2005 George E. Arrington III. All rights reserved.