Sensei John Pfund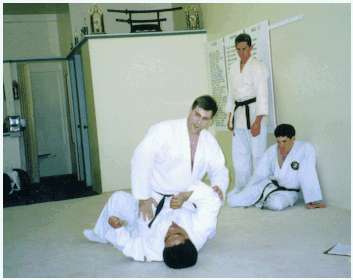 Sensei John Pfund demonstrates the mount position to his class.
---
Sensei John Pfund began his study of Danzan Ryu in the junior program of the Amador Judo and Jujitsu school in January, 1978 under Professor Rory Rebmann. At that time he was 10 years old. He received his shodan (first degree black belt) April 24, 1984. He currently holds the rank of Godan, 5th degree black belt which he received in 2011 and studies under Professor Jane Carr in Redding, California.
Besides Jujitsu he has also studied other Martial Arts: Brazilian Jiujitsu, Wrestling and Kodokan Judo (Ikkyu), Tae Kwon Do, Shotokan Karate, and Split Second Survival under Master Larry Wick. Additionally, he has been the chief instructor of weaponless defense at Sandia National Laboratories. Currently, Sensei Pfund owns and operates the Elite Self-Defense Academy in Livermore, California. His AJJF school concentrates on propagating the history, philosophy and techniques of Danzan Ryu Jujitsu.

Elite Self-Defense Academy's website is http://www.bestfreekarate.com and he may be reached via e-mail at: dreamusa1@gmail.com.
Sensei Pfund's dojo is:
Elite Self-Defense Academy
2247 Second St.
Livermore, Ca 94550
(925) 829-7229
John Pfund
dreamusa1@yahoo.com
510-220-1756
---
Other Photos of Sensei John Pfund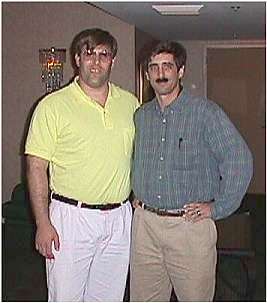 Sensei John Pfund (left) with Davis Judo Kai Sensei Randy Schuster at the 1998 Ohana celebration in San Ramon, CA.
---
This page maintained by George Arrington.

Back to Home Page.