</p>
Dwight Needham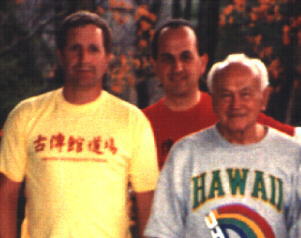 Dwight Needham with two of his instructors, Doug Kiehl and Sig Kufferath (l). Sensei Needham performs an unarmed defense against a sword (r).
---
Dwight I. Needham is a teacher of Danzan-Ryu Jujutsu in the southern mountains of Pennsylvania. He began his martial arts studies in 1975 under Karate Master Paul Wood of Hagerstown, MD. He also studied with Russel Peterson. Later, he studied Judo with Lowell Wise and continues to practice both Judo and Danzan-Ryu Jujutsu with him.
Sensei Needham studies Danzan-Ryu Jujutsu with Prof. Doug Kiehl of Carlisle, PA. He has also studied with Professors Ramon Lono Ancho Jr., Tony Janovich and Shihan Sig Kufferath. In addition to Jujutsu, Sensei Needham is certified in restoration massage.
Sensei Needham's Kodenkan West dojo is located at:
10460 Old Forge Rd.
Waynesboro,Pa.17268
Phone: 717-762-9049
e-mail: needhamd@mail.cvn.net
In addition to Jujutsu, Sensei Needham's dojo pratices Tai-Chi and Aikido to emphasize flow and work on Ki.
---
This page maintained by George Arrington.
Back to Home Page.