Linda A. McLaughlin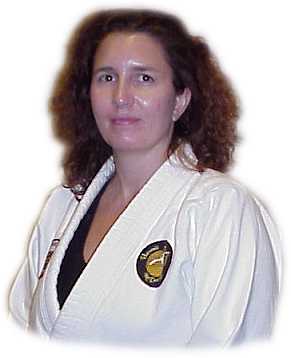 Sensei Linda McLaughlin at the 2000 AJJF convention.
---
Linda A. McLaughlin, assistant instructor of the Hawai'i KoDenKai, is the former Senior Black Belt Instructor and the Manager of Paik's TaeKwonDo Schools in the Mid-West. A Kata Champion, and Women's Self Defense Instructor, she combines her JuJitsu with a career as a Clinical Therapist, Addictions and Anger Management Counselor at the leading Hawaii hospital of it's kind. She is currently working towards her Ph.D. in Social Welfare at the University of Hawaii (Manoa). After years of studying all martial arts possible and finding JuJitsu the single most useful martial art in her field, she is considering writing her thesis on the usefulness of DanZan Ryu JuJitsu Philosophy in Social Welfare.

Sempai Linda (as she is known) has been recognized for her outstanding work with emotional and behaviourally challenged teenagers through her Job Corps career, and in several Nevada and Hawaii Group Home Programs.
---
This page maintained by George Arrington.

Back to Home Page.