Marc Mandarich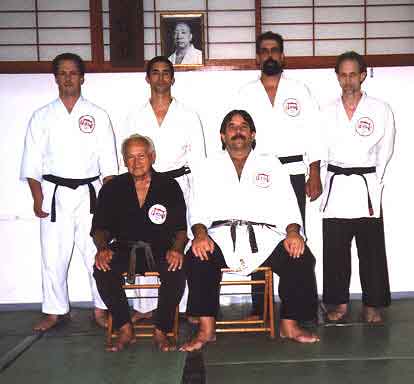 Sensei Marc Mandarich (back row, 2nd from right) along with other instructors at the Kodenkan.
---
Marc Mandarich began his study of Jujitsu under Profs. Sig Kufferath and Tony Janovich in 1973, under the prompting of his cousin (then Sensei) Janovich. He studied 2 years then left the dojo. Then in early 1981 started back at the Kodenkan Jujitsu School in Santa Clara under the professors again.

Marc trained hard for many years and currently holds a 5th degree black belt and is an associate instructor of the dojo under Kufferath and Janovich. Marc has also studied Aikido, Judo, Karate and Kajukenbo.
---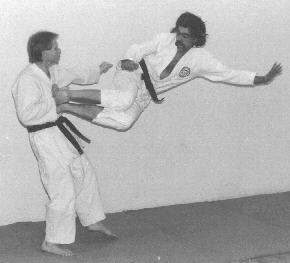 Marc Mandarich executing Tombo Gaeshi (from Shinyo no Maki) on partner Clive Guth. This photo was used in an article by Tony Janovich in the April 1990 issue of Black Belt magazine.
---
This page maintained by George Arrington.
Link to Kodenkan Jujitsu and Restoration
Back to Home Page.