Jay Swan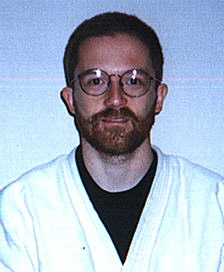 Sensei Jay Swan
---
Sensei Jay Swan has been studying martial arts since 1984. He began his training in Danzan Ryu jujutsu with Sensei Ron Jennings of the Kaishinkai dojo in Olympia, WA.
He trained continuously with Jennings until 1987, when he left Olympia to attend college at Stanford University. At Stanford he studied aikido with Frank Doran for one year, tai chi chuan with Greg Hoffman for two years, and continued his Danzan Ryu training under Sig Kufferath, Richard Bunch, and Eric Renner. He received his first degree black belt in Danzan ryu from Ron Jennings in 1990 and his second degree black belt in 1995. Both ranks are also certified with Jujitsu America.
In 1989 Jay began practicing kali, muay thai, and Jun Fan gung fu with Brian Begley, and shortly thereafter met Guro Terry Tippie and began training with him. He is authorized as an apprentice instructor in Filipino martial arts under Tippie.
In 1993 Jay moved to the small town of Middlebury, Vermont, and has been practicing jujutsu and Southeast Asian arts on his own since then. In 1996 he began training in Brazilian jiu-jitsu with Julio Fernandez, an instructor in the Carlson Gracie line, in Burlington, Vermont. He is currently a blue belt in that style.
Finally, in addition to his more traditional martial arts training, Jay is a lifelong firearms enthusiast and has completed the General and Intermediate Defensive Handgun courses and the 5-Day Close Quarters Confrontations course at InSights Training Center in Bellevue, WA.
Editors Note: Jay is also a frequent contributor to the JUJUTSU news group on the Internet. His homepage was one of the first to address Danzan-Ryu topics and certainly influenced the creation of this web site. Many thanks, Jay.
---
This page maintained by George Arrington.
Back to Home Page.