Prof. Ron Jennings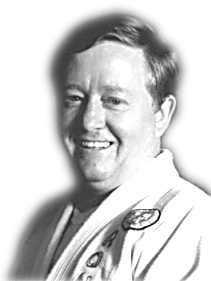 Prof. Jennings at the 1996 Ohana celebration in Santa Clara, CA.
---
Ronnie Jay (Ron) Jennings began his martial training as a youth in what we term today as "lower socio-economic neighborhoods". Gangs are not a recent phenomena and in Ron's words, "I learned gang and street fighting at a very early age and I also learned when to run."
After sharing the nuances of Texas bar room brawling, Ron's father got him started in junior boxing in 1956, junior judo in 1958, and wrestling in 1959. Ron continued wrestling through high school and college and when he taught High School in Coos Bay Oregon he was the JV wrestling coach.
In 1961 Ron discovered Danzan Ryu Jujitsu and joined the American Judo and Jujitsu Federation (AJJF). From 1962-68 (except for a some active duty time with the Marine Corps and a few late night college classes) he spent 4-5 nights a week at the Medford (Oregon) Judo and Karate Academy studying Judo, Karate, and Jujitsu. He received his Danzan Ryu Shodan in 1966 and Nidan in 1969. He also traveled to California to study periodically with Professor Law, Estes, and others. He says, "My first exposure to Professor Wally Jay was in 1963 when Professor brought his Judo team to our dojo. We literally got our butts kicked." At that point Ron decided he would someday study with Professor Jay too. In 1986 that vision became a reality when Ron accepted Professor Jay's offer to join and become active in Jujitsu America.
Ron's first dojo was in Coos Bay Oregon (1968) at Marshfield High School and he has been a school head ever since. In 1969 he moved to Washington D.C., began graduate school, went to work for the CIA, and then the Navy. From 1969-73 his dojos were in the Maryland/Washington D.C. area. He left government service to become a computer consultant to Bell Research Labs and from 1973-78 had schools in New Jersey. In 1978 he returned to the Pacific Northwest to take a position as a computer systems manager in state government. He has operated dojos and taught DZR seminars in Washington state since then.
Ron's current dojo is located on the outskirts of Olympia WA., with a junior judo program at the local YMCA, and subsidiary schools in Chehalis and La Conner Washington. The school is named KaishinKai which means "a gathering of open minds". The name reflects the teaching attitude where people of diverse backgrounds can come together to learn and share their arts without animosity or confrontation. Many of the students are ranked Black Belt in other martial arts and have come to learn Jujitsu. There are or have been Kung Fu, Aikido, Judo, Kenpo, Karate, Hwarang Do, and Taekwon Do Black Belts in the school as well as police officers, soldiers from Ft. Lewis, Ron's own chiropractor, and others. Students are encouraged to join the Amateur Athletic Union (Ron is the Pacific Northwest Jujitsu Chairman for AAU), Jujitsu America, and the AJJF. Students can then take advantages of each organization's camps, clinics, seminars, and visiting professors.
In addition to teaching Danzan Ryu Ron continues to work with law enforcement and military personnel to provide combat training. In Washington DC he trained CIA and other federal agency personnel. In New Jersey he trained SWAT teams and the Newark riot squads. In Washington State and Oregon he has trained local and state police as well as Airborne and Special Forces soldiers.
During the nine years he spent on the East Coast, Ron was an Area Director for the AJJF and the American liaison to the European Black Belt College (EBBC). This gave him an opportunity to demonstrate and teach Danzan Ryu and also to train with some fantastic instructors. He studied with Professor Visitation to learn parts of his V-jitsu Ryu, Soke Ed Kent (Ezan Ryu Jujitsu), Sensei Bruce Jones (Tudor Ryu Jujitsu), Prof. Ramon Ancho (Danzan Ryu Jujitsu and Judo), Sensei Ron Williams (Shotokan Karate), Knute Jansen of Denmark and head of the EBBC, and others. Sensei Sigurd Ogrins of Boston was, for a short time, one of his Judo coaches. After working with Sensei Rudy Singleton in Pennsylvania, Ron received his Judo Shodan in 1975 from Professor Ishikawa of the Kodokan.
Ron's DZR Jujitsu Sandan was awarded through the AJJF in 1976 and he was promoted to Yodan in 1981. In 1993 Ron received his DZR Kaidensho from Professor Sig Kufferath with a title of Kyoshi. In 1994 Jujitsu America promoted him to Godan.
When asked to comment on his many years in Danzan Ryu and his future, Ron says: "Although I have always been a very physical person, I must now concentrate more on being a coach and helping others." (A weight lifting machine accident a few years ago broke his hip, shattered the acetabulum and damaged the disks in his lower back. Surgery helped but the incident left him with a nagging and constant back pain.) "Since I had to slow down for a while so during my recovery, I took the opportunity to study Swedish massage and Shiatsu to become a licensed massage therapist."
"I am still in class 2-3 times a week, lead exercises and ukemi practice when necessary, and go a few randori or kumite rounds with my senior students. I need to be very careful though as much of my flexibility and back strength is gone. After more than 30 years of Danzan Ryu I can still be pretty sneaky (even with a bum back) so I keep my students on their toes."
Update: (9/12/1999)
Ron Jennings was elevated to the rank of Rokudan (6th dan) and given the title of Professor by the Shoshin-Ryu Yudanshakai at their Reunion '99 Convention in Reno, NV. This convention was held September 3 - 6, 1999. This was a well deserved honor and it was long overdue.
Ron's Bio from his www.KaiShinKai.com webpage:
DOJO
KaishinKai Dojo, 6424 210th Ave SW, Centralia WA 98531
(360) 273-6064, e-mail: RonJennings@KaishinKai (DOT) com
TITLE
Kaidensho title of Kyoshi – Prof. Sig Kufferath
Kaidensho title of Shihan – Prof. Tony Janovich
Kaidensho title of Shihan – The American Jujitsu Institute
Professor Danzan Ryu Jujitsu – Shoshin Ryu Yudanshakai
Professor Danzan Ryu Jujitsu – The American Jujitsu Institute
RANK
JUDO
Shodan Black Belt 1st Dan Kodokan Judo
NATIONAL JUJITSU RANK Recognition
Shichidan, Black Belt 7th Dan and Professor recognition with the Shoshin Ryu Yudanshakai
Shichidan, Black Belt 7th Dan with Jujitsu America
Shichidan, Black Belt 7th Dan with American Jujitsu Institute
Yodan, Black Belt 4th Dan with the American Judo and Jujitsu Federation

HONORARY INTERNATIONAL JUJITSU RANK Recognition
Shihan, Professor, 7th Dan with: the World Ju-Jitsu / AIKI-Bujutsu Federation; the European Samurai Ju-Jitsu AIKI Society; the Nippon Yawara Ryu AIKI-Jitsu Renmei; Samurai Ju Jutsu Association International; the All-Japan Seibukan Martial Arts & Way Association and ; Kamishin-Kai International
Associate member of the Martial Arts Grandmaster International Council (MAGIC)
MARTIAL ARTS HISTORY

Ron Jennings began his martial arts career in 1956 when his father enrolled him in boxing lessons, then into a junior judo and wrestling program. In 1962 he discovered Danzan Ryu Jujitsu and started a lifelong devotion to the art. He received his Jujitsu Shodan in 1966 and his Kodokan Judo Shodan in 1976. In 1993 he received the teaching title of Kyoshi, and in 1999 he was promoted to Rokudan (6th Degree Black Belt) and given the title of Professor of DanzanRyu by the ShoshinRyu Yudanshakai. Professor "Imi" Okazaki-Mullins personally presented Ron his Professor's belt and as she bowed remarked 'my father would be proud.' In 2003 Ron received the Kaidensho title of Shihan. In 2005 Ron was given honorary promotion to 7th Degree Black Belt by the World Ju-Jitsu / AIKI-Bujutsu Federation. He also received honorable international recognition from a number of other jujitsu organizations including 7th Dan Instructors License and Certified International instructor.
Ron opened his first dojo in Coos Bay, Oregon in 1968 and has been a school head ever since. While living on the East Coast to pursue a career in computer science, he worked for the Central Intelligence Agency, the Navy and Bell Research Labs before returning to the West Coast and settling in Washington state. He has operated a dojo in the Olympia, Washington area since 1978.
Ron is a licensed massage therapist and a member of the American Massage Therapy Association. He has received several national awards and honors including: the Outstanding Service Award from the Amateur Athletic Union where he served as jujitsu committee chair for 15 years; was co-recipient of the Wally Jay Award; was Instructor of the Year and named to the Black Belt Hall of Fame by Jujitsu America.
Ron's dojo, KaishinKai, is located just south of the state capitol of Olympia, where he is a senior technical manager. The dojo has several class locations including an on-going program through the local college, and hosts numerous clinics and a summer camp each year. Ron is well known nationally as cane master and his seminars across the country on use of the cane by people of limited mobility are quite popular. Ron is currently the Pacific Northwest Regional Director for Jujitsu America. He is also an active life member of the American Jujitsu Institute and with the ShoshinRyu Yudanshakai.
Visit the Kaishinkai Dojo Homepage.
---
Other Photos of Prof. Jennings: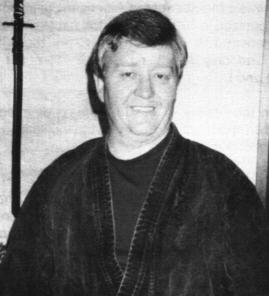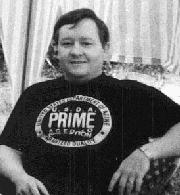 Prof. Jennings in his dojo (L) and relaxing before the 1993 Okugi class(R).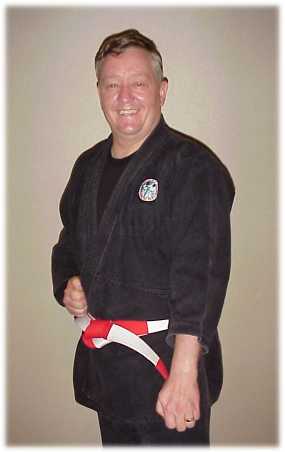 Prof. Jennings at the 1999 Jujitsu America Convention in San Mateo, CA.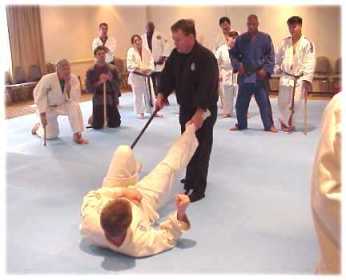 Prof. Jennings teaches a class in the use of the cane for mobility restricted people.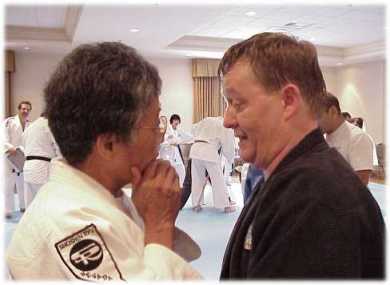 Prof. Jennings confers with Prof. Imi Okazaki-Mullins during his cane class.
---
This page is maintained by George Arrington