Professor Joe Holck
(Matsuno Joichi)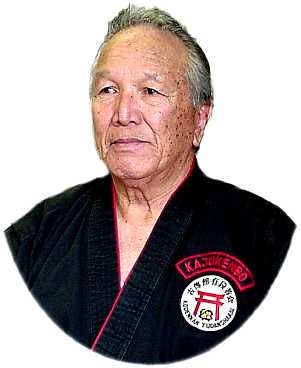 ---
Joseph Holck (1926-2011)
In Hawaii, 1949, a young man was presented his "Kaidensho Mokuroku" (teacher's scroll) of Danzan-ryu Jujutsu by his first teacher of the martial arts, Professor Henry Seishiro Okazaki. The young man was directed to perpetuate the teachings of Professor Okazaki. That young man was Joseph Holck.
Joe Holck came to Tucson in 1964 at the request of his brother, Roy A. Holck; second degree black belt in Jujutsu, to continue the Jujutsu school rounded by Roy Holck in 1962. The arts of Judo and Karate were already well established as sports in the Tucson Valley. Roy Holck felt that Jujutsu, as taught to him by his brother, had something more to offer than the medals and trophies earned in competition and combative sports.
Danzan-ryu as translated and interpreted by Joseph Holck, means in a deeper sense "steps to greater heights." The system teaches the student to think beyond the achievement of higher ranks in the martial arts. Instead, the student learns to develop and grow throughout the steps in life itself.
To quote Professor Okazaki, the founder of Danzan-ryu Jujutsu, "The fundamental principle acquired through the practice of Jujutsu has been elevated to a finer moral concept, the way to gentleness. It may well be said then that the primary objective of practicing Jujutsu is perfection of character. Danzan-ryu Jujutsu teaches the student the importance of one's religion, earth and nature, love of parents and family, respect for teachers and to live in harmony with society. These concepts have been introduced to thousands of students, both children and adults, since the Kodenkan of Tucson was established in 1962.
The original school grew into an organization, also founded by Joseph Holck and his family in 1967, and is known as the Kodenkan Yudanshakai, "School of the Ancient Tradition Black Belt Society". Today, the Kodenkan Yudanshakai has well over 50 black bells promoting the concepts of Professor Okazaki throughout the United States.
Originally, the principles of Professor Okazaki were taught through Danzan-ryu Jujutsu. Professor Joseph Holck felt that these principles could be perpetuated in other martial arts as well. Today, 45 years after he received his "Kaidensho Mokuroku". The principles of Professor Okazaki are taught in Shorin-ryu Karate, Matsuno-ryu Goshin-jutsu, and Wado Kai Karate Do by instructors who believe as Professor Holck does, that the development of a contributing member of society is more important than any trophy or championship.
On July 4, 1992, the Kodenkan Yudanshakai celebrated its 25th anniversary.
Compiled by:
V. Katsutaro Holck, Rokudan, Shihan and
J. Meleana Tomooka, Yodan, Sensei
Prof. Joe Holck passed away in Tucson, AZ on November 6, 2011.
---
Other Photos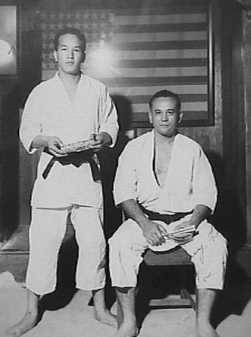 Joe Holck receiving his Mokuroku from his teacher, Sig Kufferath.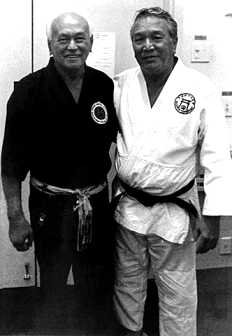 Profs. Kufferath and Holck in 1990.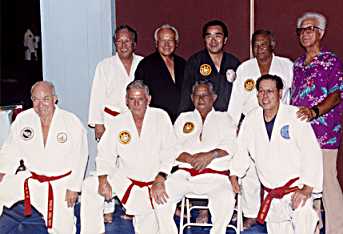 Prof. Holck at the 1990 Ohana convention (back row, left).
---
This page maintained by George Arrington.

Back to Home Page.