William Hahn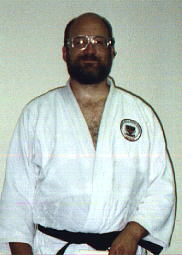 Bill Hahn upon receiving his black belt.

---
Bill Hahn began his Danzan-Ryu Jujutsu studies in Sept. 1980 in Davis, CA under Sensei Dennis Gacutan. He continued there until 1986. After relocating to Virginia, he began studying again in 1994 under Sensei George Arrington. On August 10, 1997, Bill received his Shodan in Danzan-Ryu Jujutsu from Sensei Arrington.

Bill lives with his wife Nancy and son Aaron in the Virginia suburbs of Washington, DC. He holds a PhD in Agricultural Economics and works for the US Department of Agriculture.
---
This page maintained by George Arrington.

Back to Home Page.