Prof. Gene Edwards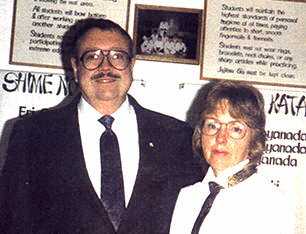 Prof. Gene Edwards and his wife Lora in 1995.
---
Prof. Gene Edwards is the founder of the Christian JuJitsu Association, an organization which upholds both Danzan-Ryu Jujitsu and Christian values.

Prof. Edwards received his Black Belt on Dec. 2nd, 1959 at the age of 16. He taught and ran the Orland Judo and JuJitsu Academy for many years. While serving in the military during Vietnam, he established the Okazaki Do club at Columbian College in Subic Bay, Republic of the Philippines.

Following the war, Edwards started the Calistoga JuJitsu Institute, offering classes at Napa Valley College for over ten years. In the mid-1980's, he founded the Shin Mei Kan in Middletown, CA, later transferring this club to Kalispell, MT. He was promoted to Professor by Prof. Bud Estes in 1978.

Prof. Edwards has a B.A. and Master's degrees, is a school psychologist, psychometrist, counselor, teacher and administrator, serving in California public education for over 20 years. He received recognition from the State of California as a mentor teacher and as a District III Teacher of the Year (representing over 53 North Bay schools), plus many other awards and citations. Now retired from public education, Prof. Edwards established the Christian JuJitsu Association on May 5th, 1994.

The Christian JuJitsu Association homepage is:
http://members.tripod.com/christianjujitsu/main.html

Prof. Edwards' Shin Mei Kan dojo homepage is:
http://oriental-arts.educator.webjump.com

Prof. Edwards may be contacted via E-mail at:
edwards@ptinet.net
---
Other Images of Prof. Gene Edwards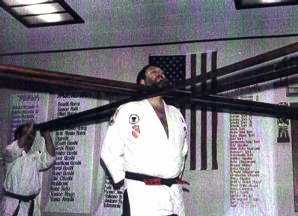 Prof. Edwards demostrates one of the Chinese Torture Sticks techniques from the Kiai no Maki.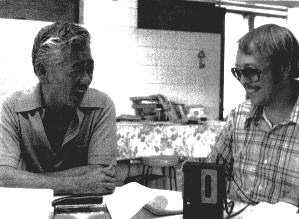 Prof. Edwards interviews Hachiro Okazaki.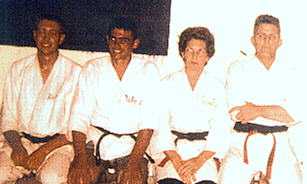 New Shodans Gene Edwards and Wes Dixon with Lukie and Bud Estes.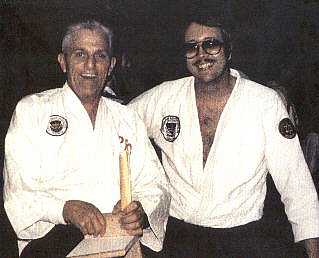 Prof. Bud Estes and Prof. Gene Edwards
Photographs used with the permission of Prof. Gene Edwards
---

This page maintained by George Arrington.

Back to Home Page.