Professor Lee Eichelberger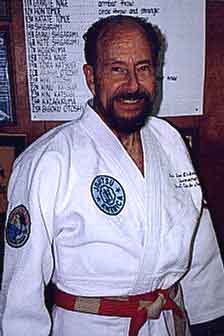 Professor Lee Eichelberger, Black Belt 8th Degree & Former President of Jujitsu America.
---
Prof. Lee Eichelberger is a student and an instructor of Jujitsu. His primary and most important instructor is Professor Wally Jay with whom he has continued to learn from and provide assistance to, since beginning Jujitsu over thirty years ago.
He is a founding member and a life member of Jujitsu America. He had previously been associated with the American Jujitsu Institute where he received some of his earlier Black Belt rankings. He has also received his Black Belt from the United States Judo Association.
He is the Technical Director for Small Circle Jujitsu International and has received his 7th Degree Black Belt in Small Circle Jujitsu from Professor Wally Jay. He has been designated as a soke dai (inheritor) of Small Circle Jujitsu by Professor Wally Jay and also serves on the Board of Directors of Small Circle Jujitsu International.
He served as President of Jujitsu America from 1992 to 1996 and is a long time member of the National Standards Board as well as an original member of the Massage Committee. He also serves as Parliamentarian for Jujitsu America, has been on the Board of Directors for many years and has been involved on many other committees and activities over the years. He received Jujitsu America's Instructor of the Year Award in 1981 and Jujitsu America's Black Belt Hall of Fame Award in 1982.
He teaches at the Island Judo Jujitsu Club, in Alameda California. He teaches the classes during the travel times of Professor Jay and assists Professor Jay in his classes at the Dojo. Prof. Eichelberger enjoys teaching students at all levels of self-defense.
He has taught at Jujitsu America conventions and clinics. He has also taught at the College of Alameda and at other invited locations, including camps in Hawaii and California.
His training and teaching includes the small circle theory and its many applications. He has a special interest in certain Kodenkan Kata forms, both older and modern interpretations.
---
Other images of Prof. Lee Eichelberger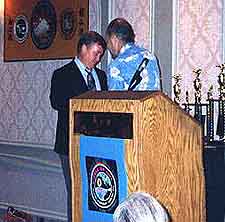 As President of Jujitsu America, Prof. Eichelberger presents the 1996 Instructor of the Year to Sensei Ron Jennings.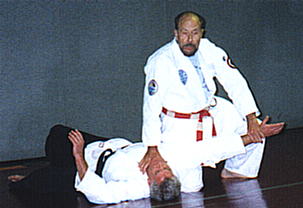 Prof. Eichelberger demonstrates the finish move of the Oku Te technique Kotegaeshi on Sensei Scott Merrill.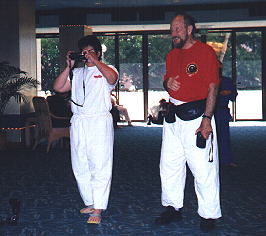 Prof. Eichelberger seen here with Sensei Janice Okamoto at the June, 1997 birthday celebration for Prof. Wally Jay in Waikiki.
---
This page maintained by George Arrington.
Back to Home Page.