Chris Love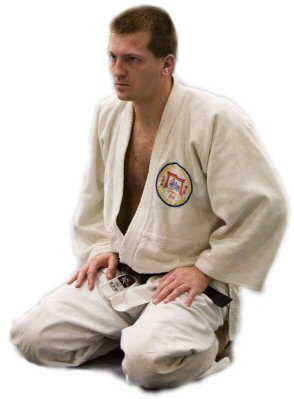 Chris Love taking his Nidan test at the Kodenkan in 2006.
---
Chris started his martial arts training, in a mixed style, near the end of 1993 while living in Arizona. After moving back home to the Chicagoland area he briefly studied a Tae Kwon Do / mixed style and Aikido before becoming introduced to Miyama Ryu JuJutsu. He started studying this style at the College of DuPage program run by Combat Arts Institute under Sensei John Martin and Sensei Don Koz in March, 1994. He spent the next 5 1/2 years rising through the ranks, preparing for sankyu before relocating to the San Jose, CA. Chris began training with Professor Tony Janovich in July of 2000. Chris has completed training in Professor Okazaki's Restoration Therapy, taking both the Basic and Advanced courses from Professor Janovich, completing them in April, 2004.

After attending class 3 nights a week for several years and assisting with kids and adult classes, Chris tested for his Shodan in December, 2003. Just over two years later, in January 2006, Chris received his Nidan. In July, 2009, during a visit from Professor Clive Guth, Sensei Chris was promoted to Sandan. This is an unprecedented event as promotions are done only at the Kodenkan in Santa Clara, CA.
There is a direct lineage to Professor Okazaki in Chris' training (Okazaki - Kufferath - Janovich - Love). This is important in transmission of the art and preserving its heritage.

In addition to Danzan Ryu, Chris is also an instructor in Ju-Jo an invention of Dr. John J. Lewis (who was the instructor of Sensei Martin and Sensei Koz of Combat Arts Institute). As fas as it is known at the time of this writing, Chris is one of a few, if not the only, Ju-jo instructor west of the Mississippi.

Summary of other relavant experience:

Assisted in training police officers and deputies with Professor Janovich
Attended National Institute of Bail Enforcement - September, 1996 - Life Member NABEA
Served civil process for approximately 5 years in Northeastern Illinois
State of Illinois Firearms Training Certificate - valid for pistol, revolver, rifle, shotgun
Licensed Private Detective State of Wisconsin - May, 1997
Smith & Wesson Academy, NRA and other defensive pistol training
Competitive pistol shooter in IDPA
Trained police officers in arrest tactics and maneuvers
Experience working/training with police tactical teams
BA degree in Psychology
Approximately 14 years in Information Technology
---
Other photos:
---
This page maintained by George Arrington
Back to Home
Copyright © 2000, George E. Arrington III. All rights reserved.