Byron Walker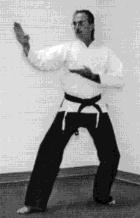 ---
Byron Walker was first exposed to the martial arts in 1951 at the age of eight years. A Staff Sergeant stationed at the Amarillo Air Force Base, Amarillo, TX was teaching a Karate class at a neighborhood community center.
Despite his pleas for acceptance, he was refused as a student because of his age. However, he seldom missed the chance to watch as much of the class as he could before being noticed and politely, but sternly directed to leave. The class eventually disbanded due to the instructor being transferred to another duty station.
This first experience, however left an indelible impression. Finally in March 1963, while stationed in Pearl Harbor, HI, Mr. Walker's formal training in the martial arts began when he enrolled in his first Karate class.
After being discharged from military service, Mr. Walker enrolled in another Karate class in 1966. At the same community center where his first encounter in the martial arts had occurred years before when he was a child.
In June 1967, Mr. Walker met Prof. William R. Beach and began studying the Okazaki system of Jujitsu. He also continued to study Karate on alternate evenings. He could usually be found in class practicing at home or discussin the martial arts with senior students from one of the classes he attended nightly.
In May 1975, he was employed as a Federal Officer for the US Department of Energy. He became a police firearms instructor for that agency in 1976 and an avid police pistol competitor.
In 1983 he wrote, implemented and taught the first formal arrest and restraining/suspect control course for the Department of Energy courier force, a para-military organization responsible for the security and transport of nuclear weapons and their components throughout the US. This course was first taught to field officers during their advanced tactical training and later new recruits at the agents academies in Albuquerque, NM. He eventually taught or assisted in the instruction of suspect control, handcuffing techniques, firearms, cover and concealment, field tactics, individual tactical movement, explosives recognition and terrorist tactics. He later wrote a training manual about international terrorism. Mr. Walker left government service in 1994 due to an injury he sustained during a training exercise.
He organized and founded the Eight Directions Jujitsu System in 1994 and is currently active in training his senior students and in writing training manuals of his Jujitsu method based on the techniques of Kodenkan Jujitsu, as taught by his instructor, Prof. William R. Beach.
Mr. Walker is ranked third degree black belt in Tang Soo Do, Korean Soo Bak Do Association, has studied the Wing Chun system of Chinese boxing, fifth degree black belt in the Kodenkan Jujitsu system and is a member of the Confirming Council of the Jujitsu Institute of America.
On Sep. 16, 2002, Professor Byron Walker passed away. Prof. Walker was 58 years old and died from complications from cancer.

During his martial arts career he only produced a hand full of black belts, but they could cover their ground in any country in the world. He was my close friend and we knew each other for 35 years His senior student was master Jerry Strickland of Austin Texas.

It is with deep sadness I send this notice I will truly miss this fine man he was ------- my friend.

Professor Gary Jones, Rokudan, House of Kodenkan Jiu Jitsu
Little Rock, Arkansas
---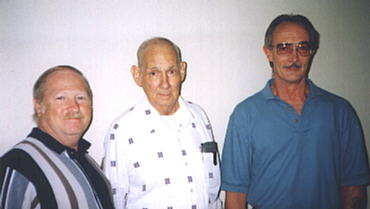 Johnny Hartzell, William R. Beach and Byron Walker at the Hawaiian Jiu-Jitsu System, Inc. convention in Houston, TX on Nov. 2, 1997.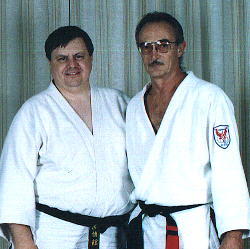 George Arrington and Byron Walker at the Hawaiian Jiu-Jitsu System, Inc. convention in Houston, TX on Nov. 2, 1997.
---
This page is maintained by George Arrington.
Back to Home Page.