Edward Burgess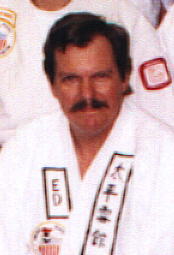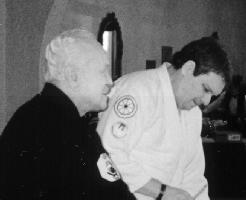 Sensei Ed Burgess (left) and along with Professor Sig Kufferath at the 1996 Ohana celebration (right).
---
Ed Burgess was born in 1949 in Humboldt County, California.
After a year on the high school wrestling team, he attended College of the Redwoods in Eureka, where he began his Judo and Jujitsu studies in 1967 under Sensei Ben Patterson.
He founded the Taihei Yukikan
(Hall of Peaceful Courage) Dojo in 1978 at Sierra College in Rocklin, CA. He continues teaching as a guest instructor and clinician in Northern California and Nevada.
A Life Member of the United States Martial Arts Association, he was promoted to Rokudan in late 1996 at the USMA NorCal convention, after demonstrating classical Yawara Techniques from early Kodokan Judo.
Diagnosed with Parkinson's Disease in 1991, Ed has turned to historical studies of Kodokan Judo and Danzan Ryu Jujitsu and their common roots. His most recent kata competition was at Ohana '96, where he placed third in the yodan/godan division.
Ed would welcome your e-mail at efb8th@inreach.com.
---
Interesting Note: The translation of Sensei Burgess' school name is "The Hall of Peaceful Courage". This name is in honor of one of Sensei Burgess' students, Larry Wight. It seems that during a Judo contest against Sensei Burgess, Larry conceled the fact that he had a cracked rib and three broken toes. He fought four more matches in that deplorable state because if he withdrew, Sensei Burgess would have lost the single final point needed for National Recognition of his Shodan. He didn't want to be responsible for letting Sensei down. He caught flack about it from Sensei Burgess, but later Sensei named the dojo in his honor.
There is also a dojo tradition to use the name Taihei Yukikan

where this "yuki" means "snow" and serves as a reminder of Sensei's youthful ignorance when he opened the school over twenty years ago. Today, Sensei Burgess is an excellent role-model for his students.
---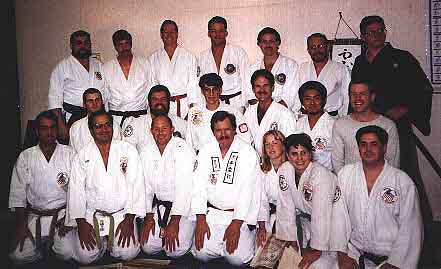 Sensei Burgess with his class.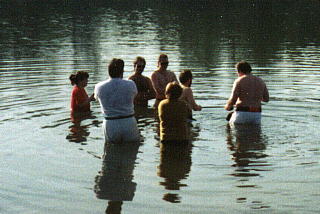 Sensei Burgess leads his class in lake training.
---
This page maintained by George Arrington.
Back to Home Page.