Dr.
Barbara
Gessner
---
Dr. Barbara Gessner, Rokudan in Jujitsu and Godan in Judo, began studying the martial arts in 1972 at East Stroudsburg University, Pennsylvania, where she received both B.S. and M.Ed. degrees in Health and Physical Education with an emphasis on teacher preparation. Her Master's Thesis was an application of teaching methodology to the martial art of Jujitsu. In 1976 she took over her first dojo, Portland Kodenkan in Pennsylvania, and in 1978 she became Sensei of her present school, Rutgers University Kodenkan in New Brunswick, New Jersey. She has continued to teach Jujitsu and other classes at Rutgers and in 2002 completed her Doctorate in Education there. Dr. Gessner was a member of the American Judo & Jujitsu Federation Board of Managers for many years, and presently serves on the AJJF Advisory Committee. She also Chairs the United States Judo Association Jujitsu Promotion Board.
---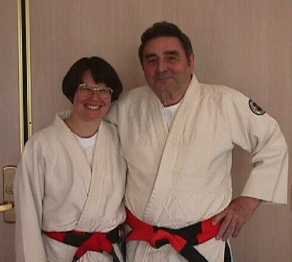 Barb and Bill Gessner at the 1998 Ohana celebration in San Ramon, CA.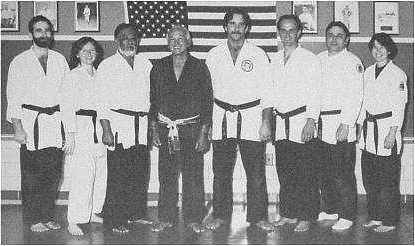 (L-R) Dan Furhman, Mary Boland, Lono Ancho, Sig Kufferath, Tony Janovich, Doug Kiehl, William Gessner, Barbara Gessner at a class given by Prof. Kufferath in Ohio in the 1980's.

---
This page maintained by George Arrington
Back to Home
Copyright © 1999, George E. Arrington III. All rights reserved.