Bernice
Jay
---
Bernice Jay was born on the Big Island of Hawaii on January 11, 1923. Her mother was of English-Hawaiian ancestry and worked as a secretary for the Hawaiian Free Kindergarten Association. Her father was of Chinese descent and worked as court interpreter for the Hawaiian court. She had five siblings, three brothers and two sisters.
As a child, she learned Hawaiian Lomilomi massage from her Great Aunt Maile Moku (Auntie Maile, was Bernice's grandmother's sister and was full blood Hawaiian) She was a Hawaiian Kahuna-Lomilomi. Auntie Maile lived in Nuilii, four or five miles from Kohala on the Big Island. According to Bernice, " Auntie Maile started teaching me at 8 years of age. She was a bonesetter and people would come to her when they were sick or injured. My Great Auntie used Hawaiian herbs, massage and other healing techniques. As kids we never liked going to her house because she made us massage her. She would tell me how to do the massage. If we didn't do it well, we had to start over and that would delay our going out to play. When she massaged me it would hurt." Bernice also learned their family style of " walking the body" from her great aunt. "She always wanted me to lean on the wall so we could put more pressure on her back." After walking the body, "Auntie would ask me to massage her head with my hands," Bernice said.
In school, Bernice was very active in sports. She participated in softball, basketball, volleyball, tennis and badminton. She had a very good eye for shooting baskets and could sink a basketball from anywhere on the half court line. She was also said to possess speed on the baseball field and was considered a "dangerous shortstop". In the middle of high school, Bernice moved to Honolulu and entered Farrington High School where she graduated in 1941. She and Wally Jay were married on 6/7/41 in Pearl City. On December 7th, 1941 the Japanese attacked Pearl Harbor. Bernice said that Wally got on the roof of their house to watch the battle. She had a very difficult time getting him off the roof. The Japanese planes strafed the house of a neighbor while she was hanging her sheets to dry. Fortunately, she was not killed or injured.
Bernice began her studies the martial arts in 1944. "I wanted to be involved so I could learn what Wally was doing and talking about." "I started learning jujitsu from Wally and Tony Gonzales. I also learned from Moon Watanabe who specialized in Kodokan Judo." She studied Judo and jujutsu form Jerry Tarutani at the Palama Settlement. She also learned "chokes" from Wallace Takabayashi.
She received her Shodan in 1947 and her Nidan in 1949. "Professor Okazaki did all my promotions except my Sandan." She states, "I was awarded my black belt just in time to go to the special class that Professor Okazaki taught every ten years. "There is a picture of me with the scroll Professor Okazaki gave me." The black belt students were not allowed to take notes at this special class (Special Black Belt Class of 1948) so she and Wally would go home at night and write down as much as they could remember. "I don't know what happened to those notes. I think they got lost when we moved."
Professor Okazaki trained Bernice in Seifukujutsu. "Once I was injured in jujutsu and Professor put a mustard plaster on me. It got real hot. I asked him when I could take it off. Professor Okazaki told me to leave it on until you're about ready to scream."
When a young boy named, John Noah, was stricken with polio, Professor Okazaki showed her how to massage him. This way, Bernice could treat him when Professor Okazaki was not available. She took John to see Okazaki on a regular basis for two years. "That is when I learned Seifukujutsu." Not only did the little boy survive, he completely recovered. "You can't tell he ever had polio", Bernice said.
During World War II, Bernice recalls using talc instead of oil. She also used Ivory Soap with a little water to do massage. "Massage oil and the ingredients for liniment were hard to get."
Bernice delivered her first two children in the hospital. Professor Okazaki provided her pre-natal care during her third pregnancy. "He prescribed lots of walking and exercises and he showed Wally how to assist." A Japanese mid-wife, who was recommended by Professor Okazaki, did the delivery.
The Jay family moved to Oakland on 12/31/50 and stayed with Dominic and Helen Carollo who were students of Professor Ray Law. Six months later the Jay's moved to their present home in Alameda, California. This became the family home and the headquarters of Island Jujutsu. This is where her husband, Professor Wally Jay, founded Small Circle Jujutsu. This is the home where a young Bruce Lee came over to learn from Professor Wally Jay.
In the 1950's, Bernice was busy raising small children but found enough time to volunteer at the Kaiser Hospital in Oakland. She studied electronics and went to work as an assembler and an instructor for the Seven-up Bottling Company. She later worked for E-H International. Bernice also taught jujutsu classes when Wally was out of town attending a conference or teaching a jujutsu seminar.
Auntie Bernice and her husband, Professor Wally Jay have four children (Alberta, Alan, Antoinette and Leon). They also have five grandchildren and two great grandchildren. These days, Auntie Bernice enjoys reading and spending time with her family. She is slowly teaching a granddaughter the ancient Hawaiian Lomilomi and Okazaki's Seifukujutsu. "I will teach anyone who wants to learn." She is a very remarkable lady.
Note: The preceding is biographical information on "Auntie" Bernice Jay. I called her to see if I could submit information about her life, her life with Professor Wally Jay and her training in the Danzan Ryu. She sent me a hand written note and a copy of the "Tegami" from Spring of 1990. She was featured on the front page of this publication. The information for this bio was taken from an article by Janice Okamoto in the Spring 1990 issue of the Tegami along with information from Dr. Daniel E. Andrews III, M.D., Founder, Pinewood Karate in Napa, CA.
---
Other photos: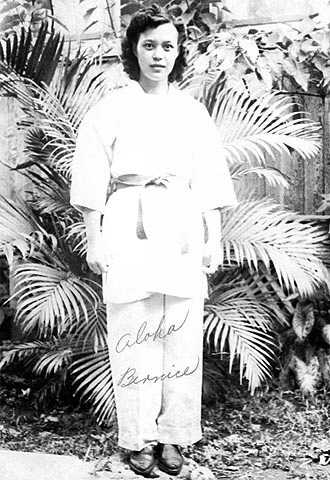 Bernice Jay in the 1940's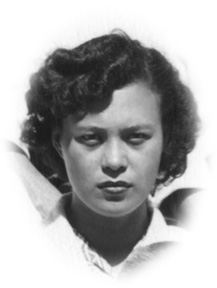 Bernice Jay at the 1948 Special Black Belt Class in Honolulu.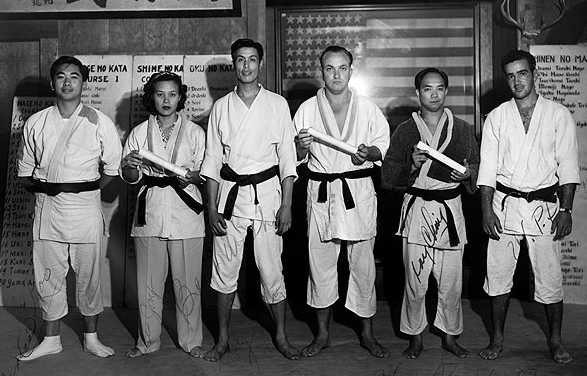 Bernice Jay receiving her Nidan promotion in 1949.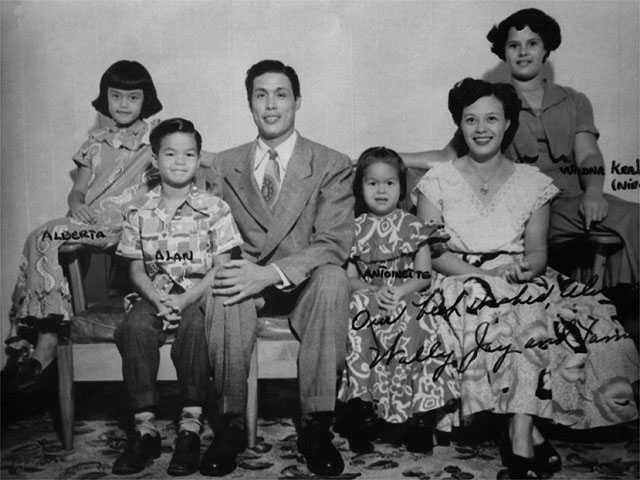 Bernice Jay and family.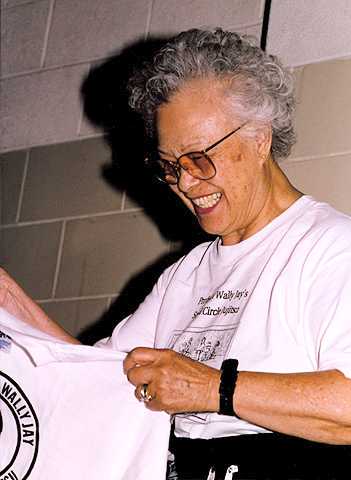 Bernice Jay selling T-Shirts in Rockville, Maryland during a seminar by her husband Prof. Wally Jay.
---
This page maintained by George Arrington
Back to Home
Copyright © 2001, George E. Arrington III. All rights reserved.