Sensei Jon Amaral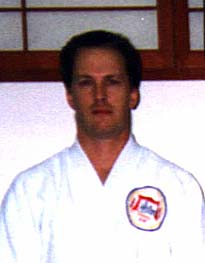 Sensei Jon Amaral at the Kodenkan dojo in Santa Clara.

---

Sensei Jon Amaral is an Associate Instructor at the Kodenkan Jujitsu School in Santa Clara, CA.

Jon started training under Prof's Kufferath & Janovich in 1987, and currently holds a Sandan under the Professors. He has completed both the beginning and advanced courses of Seifukujutsu from Prof's Kufferath & Janovich.

Not only has Jon proven to be dedicated by not missing a single class in over 10 years, he, in the true spirit of Okazaki's teachings, demonstrates the true kind and natural gentleness and caring for others that is so important in Danzan-ryu training. Jon still trains as well as instructs at the Kodenkan Jujitsu School under Prof's Janovich & Kufferath. Jon has also trained in Karate and Aikido. He currently resides in Sunnyvale, CA.
---
This page maintained by George Arrington
Link to Kodenkan Jujitsu and Restoration
Back to Home Page
Copyright © 1998, George E. Arrington III