Professor Rudy Aguilar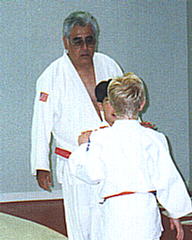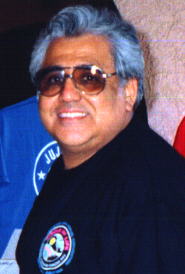 ---
Professor Rudy Aguilar, 7th Dan in Jujitsu and Nidan in Judo, began his martial arts career in 1963 studying judo with Richard Travers. He created the Bee Real Program in 1988 to teach children how not to be kidnapped or abused. He has taught police self defense classes, as well as self-defense to senior citizens.
Sensei Aguilar is the head instructor at the Newark Judo Jujitsu Club in Newark, CA, and is a life member of Jujitsu America, as well as a lifetime member of the USJA. He previously hosted Jujitsu America's National Convention in Newark, CA.
He has received numerous awards including:
Jujitsu America's 1989 Spirit of Kodenkan Award, 1989 Volunteer of the Year in Newark, California, Jujitsu America's 1990 Instructor of the Year, 1992 Presidential Award, 1993 Black Belt Hall of Fame, 1995 Spirit of Kodenkan Award, and 1991 Outstanding Instructor Award in the World Martial Arts Hall of Fame.
---
This page maintained by George Arrington.
Back to Home Page.