Professor Steven J. Byzek Obituary
by George Arrington
---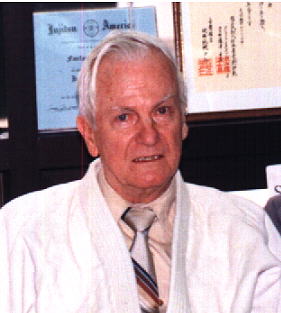 Steven J. Byzek in 1994 upon receiving his 8th dan Professorship.
---
Professor Steven J. Byzek, Hachidan and student of Professor Okazaki passed away on Saturday, January 6, 1996 at Walter Reed Army Hospital in Maryland. He had been in poor health for several years. He is survived by his wife Madeline, his daughter Bonnie and his grandson Alexander. His son Steven was killed several years ago.
Steve Byzek was born in Waltersburg, PA on July 11, 1917. At age 18, he joined the Army and was stationed at Ft. Howard in Maryland. Two years later, he was assigned to Ft. Derussey on the island of Oahu in the Territories of Hawaii. It was at this time (1937) that he began his Jujutsu training with Professor Okazaki. During his training, his personal instructors were Richard Rickerts and Marion Anderson. He graduated from the Kodenkan on May 15, 1941 (in the same class as Sig Kufferath and Bill Ah Moo.) At this graduation, Byzek received a 9-foot long scroll called a Mokuroku (catalog) of the Jujutsu techniques he had learned.
On December 7, 1941, Steve Byzek was witness to the Japanese attack on Pearl Harbor. At this time, there was much suspicion that an invasion was imminent. In this hysteria many Japanese residents of Hawaii were arrested, questioned and even imprisoned at the detention camp on Sand Island. Since Byzek had been a close associate of Professor Okazaki, he too was questioned. He recalled that during the inquisition, "One of these men tried to rough me up, but I wouldn't have any of that." He was one of several students, in fact, who assisted in releasing the "Old Man" (Prof. Okazaki) from prison.
Later, Byzek was transferred to a combat unit that was fighting with OSS in northern Africa. During this time, he was wounded by a land mine and spent a long period of time in an Algiers hospital. This is where he met his future bride, Madeline, who was his nurse. They were wed in Algiers in 1943.
In 1947, the Byzeks returned to Hawaii. While there, Steve continued to train in and teach Jujutsu. His class was held at the Eva Marine Base. He was among a group of Okazaki black belts who attended a special Okugi class in 1948. At this class, he was awarded the title of Shihan from Okazaki.
Byzek retired from the Army with the rank of Major, but continued in government service with the CIA. Among his varied experiences, he was involved in the Bay of Pigs invasion of Cuba in 1962. He was also very active in training U.S. servicemen in self-defense tactics. He and Madeline settled in the northern Virginia suburbs of Washington, DC.
In 1994, Steve Byzek's rank was adjusted from 4th dan to 8th dan Professor in recognition of his many years of service to Danzan-Ryu Jujutsu. He was also recently recognized as Jujutsu Patriarch by the Jujitsu America organization and inducted in the Jujutsu Hall of Fame by the American Jujitsu Institute.
In the words of his widow, Madeline, "Steve was a brave man who loved his country very much."
Personal Note: I met Steve Byzek two years ago when Wally and Bernice Jay were in the DC area for a seminar. Steve has since welcomed me several times into his home to share his experiences about Okazaki, Jujutsu and life in general. He was also generous enough to visit my class and pass on Kokua to my students. In thinking back on the fact that he had been in the area for over 20 years, I am sorry that I didn't realize his proximity until recently. I am very grateful, however, that I did get a chance to know him. He shared a great deal of historical material with me that I have in turn shared much of with you on this web site. Thanks Steve!
---
This page is maintained by George Arrington.